The second-quarter numbers are mostly in for cannabis stocks, and they are giving a strong message: Buy American.
That is, buy American multi-state operators, rather than the big Canadian cannabis firms.
This will strike a bit strange to anyone who has been reading marijuana business headlines for the past couple years. Canadian cannabis firms tend to suck up all the oxygen. But the proof is in the numbers.
Here's a table comparing the revenue of big U.S. and Canadian firms …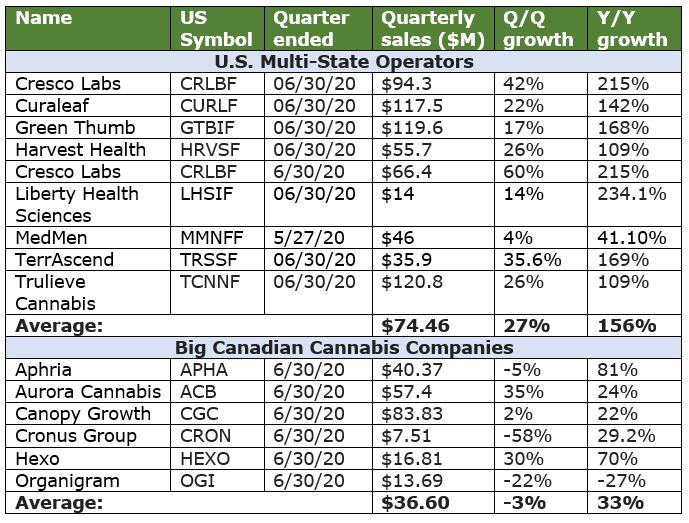 Sources: New Cannabis Ventures/Company Financial Reports
On average, the big U.S. cannabis firms that I favor saw revenues jump 27% quarter-over-quarter and 156% year-over-year. The Canadian firms, on the other hand, saw revenues, on average, actually drop 3% quarter-over-quarter and rise just 33% year-over-year. That's some difference!
What's more, a larger number of U.S. companies are making money, or closer to having earnings, when compared to than their Canadian counterparts.
Now, a few disclaimers about this table:
1. The Canadian companies report in Canadian dollars (as do some of the U.S. companies, because they dual list in the U.S. and Canada). So, I converted everything to U.S. dollars.

2. I included MedMen Enterprises Inc. (OTCPK: MMNFF) even though I've said loud and clear that you'd be better off putting your money in a trash can and setting it on fire than buying MedMen.
Note: I would be happy to be wrong about MedMen when next earnings come out. But I won't hold my breath.
3. Also, TerrAscend Corp. (CNSX: TRSSF) is a company that operates in both the U.S. and Canada. Technically, it could go on both lists.

4. Liberty Health Sciences Inc. (CNSX: LHSIF) only operates in Florida, so technically, it's not a MSO — yet.
Here's the thing that bogarts my joint: These floundering Canadian companies qualify to list on the big U.S. exchanges like the Nasdaq and NYSE, while the better-performing U.S. companies can't do that and are forced to list on the OTC.
That's because cannabis is legal in Canada, but it is not legal on the federal level in the United States. Yet.
Could that change with the next election? Possibly … depending on the outcome.
While the Trump administration seems happy with the way things are, a Biden administration could shake things up.
In an interview this week with ABC News, Sen. Kamala Harris said a Biden administration would federally decriminalize cannabis. That would be a game-changer, though it stops short of legalization.
To be sure, I only give the Democrats a 50% chance of winning the White House. We'll see how that goes.
In the meantime, here's a "Buy American" investment idea for you:
AdvisorShares Pure Cannabis ETF (NYSE: YOLO). Let me show you a chart that explains why …
This is a performance chart since the March bottom. You can see that YOLO is trouncing the performance of both the S&P 500 and the ETFMG Alternative Harvest ETF (NYSE: MJ).
MJ is a more well-known fund and is much bigger than YOLO. MJ has $545 million in assets under management, while YOLO has just $60 million in assets. Both funds are pretty liquid.
So, why is YOLO leaving MJ in the dust?
It's the stocks each fund holds. YOLO allocates 50.1% of its assets to U.S.-based stocks and 34.2% to Canada. The rest is allocated between Britain (7.4%), Israel (0.4%) and cash (7.9%).
MJ, on the other hand, allocated 45.3% of its assets to Canada and just 32.5% to the United States, with the rest going to Britain (15.3%), Sweden (3.5%) and Japan (2.5%)
In other words, YOLO concentrates on the U.S. — and as I just showed you, U.S. MSOs are running smoke-rings around our friends to the North.
One more thing on that chart — MJ was outperforming the S&P 500, but that's no longer the case. MJ's underperformance is getting worse, not better.
The choice seems clear to me. How does it look to you? When it comes to pot stocks, I'd say "buy American, and buy now".
All the best,
Sean