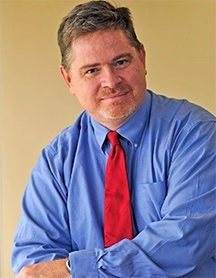 Sean Brodrick travels far and wide to seek out small-cap values in the natural resource sector and far beyond. He takes a boots-on-the-ground approach to find undiscovered stocks with enormous potential.
His journey started in New England. As a youth he worked on the cog railroad that runs to the summit of Mt. Washington. Working on the coal-fired, steam-powered trains was hard work but it was also incredible fun, and perfect for someone with an interest in the great outdoors and heavy machinery.
He graduated college, worked as a journalist, and then moved on to covering stocks and commodities – the lesser-known, undervalued stocks he picked as likely to ride the next wave of the commodity supercycle. That included precious, industrial and energy metals such as gold, silver, palladium, lithium and more, as well as technology, infrastructure and other "picks and shovels" plays that could really help an adventurous investor mine for profits from the comfort of home.
In his active trading service Supercycle Investor, he does exactly that. Members had the opportunity to grab a parade of gold gains — six rounds of fast, double-digit gains — in just one alert!
And in his monthly newsletter, Wealth Megatrends, Sean helps his subscribers follow the same big trends with highly liquid stocks that, in most cases, pay fat and growing dividends. Some of those megatrends include …
Enormous debts, public and private, piling up around the world.
"The Old Coots' Revenge," or the aging of America and the global population.
The rise of the robots.
The war cycle — which is getting stronger and meaner than ever.
The electric vehicle revolution.
Electronic payments.
Marijuana legalization.
Over the years, Sean has helped his subscribers score some big gains, including 64.9% in MarkWest Energy Partners … 88.1% on Impact Silver … 157% on Jaguar Mining … and 305.4% and 368.7% on Great Panther Silver. And there have been plenty more gains along the way … and more where those came from.
In Sean's first cannabis stock trading service, he led subscribers to a bunch of triple-digit gains — , as high as 468% in Future Farms Technologies … 309% in Emerald Health Therapeutics … 216% in Cronos Group … 193% in Canopy Growth … 144% in Aphria … and 107% in Leafbuyer Technologies — also in just one alert! And in another alert, he recommended grabbing up to 193% on ABcann Global … 203% on Kush Bottles (now KushCo.) … 237% on Cronos … and 363.6% on Future Farms.
Now he is helping investors go for gains in cannabis stocks via his new Marijuana Millionaire Portfolio service. He leads the research team that created the breakthrough Weiss Cannabis Stock Rankings to pinpoint the market's top pot stocks with scientific accuracy.
Sean is a biweekly guest on one of Canada's premier financial websites, HoweStreet.com, and from time to time he makes appearances on various U.S. radio and TV news programs. He also contributes to Dow Jones MarketWatch.