Gold's gone through the meat grinder these past couple weeks. And as it goes shrieking into the whirling blades, it's dragged gold miners along with it. Heck, gold miners have fallen to levels not seen since 2016.
Man, that is no fun at all.
Yeah, gold — the metal, the trading instrument, the "store of value" — is junk! Or, it seems that way. But let me point out something the market seems to have forgotten …
I'm talking about mean reversion. Let's look at my next chart. This one is a chart of gold.
You'll see two levels of support on the chart. The blue line is at $1,190. Gold seems like it will slice through that support "like buttah." And maybe it will. Or, it could snap higher by the end of the week. Because, you know, the market loves misdirection more than anything else.
Below that blue line is a green line at $1,145. Gold last saw that level at the start of this year. That's more support.
In other words, another place for a rally to find footing.
Finally, the black line on the chart is the 200-day moving average for gold. When we talk about "mean reversion," many people mean the 200-day moving average. It can act like a magnet when stocks or commodities get too high. And it can draw those same stocks and commodities higher when they dip too low.
Right now, gold is trading WAY below the 200-day moving average. A reversion to the mean would not be surprising. And I've shown you two levels of support where it could happen. Watch the weekly closes.
Why is gold's rout happening?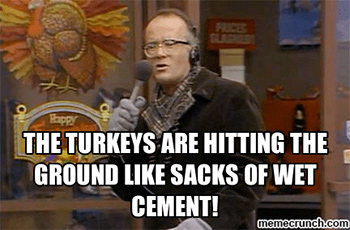 The market has forgotten about mean reversion, which shows a place for a gold rally to find footing. And I think you'll be surprised at how well golden turkeys can fly higher from it.
Gold is plunging because hedge funds are ratcheting up their short positions in bullion and gold-focused Exchange-Traded Funds to record levels. I'm talking RECORD levels.
As often happens in the markets, when everyone runs to one side of the boat, we see a sudden, jarring shift to the other side.
On Tuesday, I published an article titled "Is Gold Still a Safe Haven? Let's Talk Turkey." Well, most traders hate gold and miners right now. Those miners are falling out of the sky like turkeys pushed out of a helicopter.
You might want to catch a turkey or two. Because buddy, when the big reversion comes, you'll be surprised how well turkeys can fly.
All the best,
Sean